Added Benefits
Do your customers need their materials to ship quickly?  Ours do!  We will ship 100% of your orders in the same or next business day, with the vast majority going out on the day they are entered.  We pride ourselves in being able to offer same-day shipping if requested.
All employees in our Fulfillment Center have real-time access to the department's Shipping Standard metric via their computer dashboard and through two real-time monitors in the Distribution Center.  We watch it closely and take our performance very seriously.
Through the use of bar code scanners, process improvements, cross-training and an emphasis on continuous quality improvement, our packing accuracy is maintained at a virtually 100% level.
No matter the size of your items, we have vertical carousels, flow- through racking, pallet locations and bulk storage for all of your products.
Federal Express, United Parcel Service, the United States Postal Service and various other LTL carriers are available options in our integrated manifesting systems. 
An employee badge ID is needed to enter our building, and access to the areas where your products would be housed is tightly controlled. Security cameras are utilized inside and outside of the building for added protection.

Centralized U.S. Shipping Location
If you ship packages to customers across the U.S., there is no better place to ship from than St. Louis!  Our central location enables us to achieve average ground transit times of 2-3 days for close to 90% of all U.S. zip codes, and next day delivery can be achieved for many areas around St. Louis.  And if you ship outside the U.S., we are equipped to ship to anywhere in the world!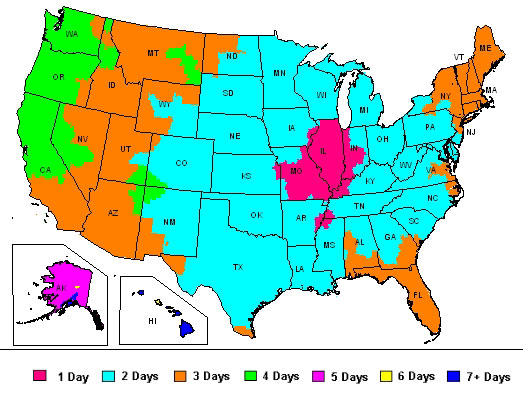 Through process improvements, continuous training and an emphasis on quality, our employees achieve a nearly 100% accuracy measure of bin location counts.   
If you sell items that need a customer's name or other information on it, we have a state-of-the-art book embossing machine that we can deploy for this purpose.  Imprints can be done in bulk, or on a single order basis.